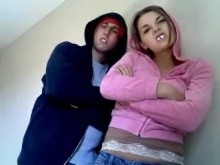 Yousef
(Ang:
Joseph
)
Abu-Taleb
(
Arabic
:
يوسف أبو طالب
) (born circa
1980
) is an
American
actor
of half-
Arab
, one-quarter
English
, and one-quarter
white American
heritage, who is perhaps best known for co-starring in the role of Daniel (Danielbeast) in the
lonelygirl15
drama, alongside
Jessica Lee Rose
.
Yousef was born in
Arlington
,
Virginia
. His father is from
Jordan
, where Yousef lived until age eight. Much of his upbringing was in Virginia and
North Carolina
. He attended
Lake Braddock Secondary School
and
George Mason High School
and, in 2003, graduated from
Blue Ridge Community College
. In 2006 he moved to
Los Angeles
to try his hand at
acting
. His divorced parents both live in Virginia—his father, an
Arab American
, in
Herndon
and his mother, a
British American
, in
Harrisonburg
. He has two brothers and four sisters.
Yousef is a member of the
Screen Actors Guild
. Prior to
lonelygirl15
, he had a small role in
Dorm Daze 2
, in a deleted scene, and was in an independent film,
Stray
.
While looking for acting jobs, Yousef found a
Craigslist
posting for an independent film codenamed
Children of Anchor Cove
, which later turned out to be the
lonelygirl15
project. Although he was almost ten years older than the character of Daniel, he won the role. Daniel, who was originally supposed to be 15-16, was rewritten as an 18-year-old.
During the filming, before his identity was revealed, Yousef kept a low profile, keeping to his house and wearing sunglasses when he went out. After the creators and crew came forward, he was openly interviewed by
MTV
and
CNN
. He also appeared with Jessica Lee Rose on
Tom Green Live
.
On
November 8
,
2006
, rising rumors that Yousef had been fired were subsequently dispelled by the creators. Yousef's character remains on the series today.
Yousef appeared with Jessica Lee Rose on the red carpet at the
VH1
Big in '06
Awards, where
lonelygirl15
won in the "biggest download" category. He also did some work alongside
Carmen Electra
for the promotional videos of
Epic Movie
, a film that parodies a number of other epic films such as
The DaVinci Code
,
The Chronicles of Narnia
, and
Snakes on a Plane
.