Operation Highjump (OpHjp)
, officially titled
The United States Navy Antarctic Developments Program, 1946-47
, was a
United States Navy
operation organized by Rear Admiral
Richard E. Byrd
in
Antarctica
under the command of
Richard Cruzen
, which was launched on
26 August
1946
and lasted until 1947. The massive Antarctic task force included 4,700 men, 13 ships, and multiple aircraft.
The stated claims of the operation were as follows
to train personnel and test material in the frigid zones
to consolidate and extend American sovereignty over the largest practical area of the Antarctic continent
to determine the feasibility of establishing and maintaining bases in the Antarctic and to investigate possible base sites
to develop techniques for establishing and maintaining air bases on the ice, with particular attention to the later applicability of such techniques to operations in interior Greenland. (where, it was then believed, physical and climatic conditions resembled those in Antarctica)
to amplify existing knowledge of hydrographic, geographic, geological, meteorological and electromagnetic conditions in the area.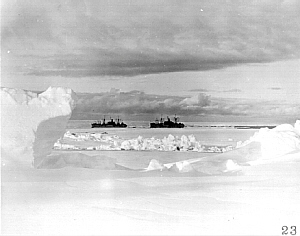 Timeline
Operation Highjump has become a topic among UFO conspiracy theorists, who claim it was a covert US military operation to conquer alleged secret underground Nazi facilities in the Antarctica and capture the German
Vril
flying discs
, or
Thule
mercury-powered spaceship prototypes. This has been the central theme of
Robert Doherty
's "
Area 51
" series of novels.