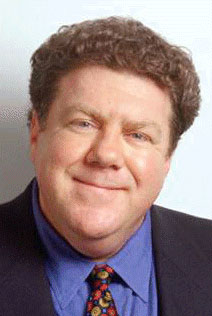 George Robert Wendt
(born
October 17
,
1948
) is an
American
actor
perhaps best known for the role of
Norm Peterson
on the
television
show
Cheers
.
Early life
He is also an alumnus of
The Second City
which he discovered shortly after college. A viewing had inspired him to join and on his first day of employment, he showed up promptly at 11:30AM as he was instructed. The woman working there handed him a broom and said "Welcome to the theater, kid"; thus, his first job in showbiz was sweeping up cigarette butts off the floors. Second City was also where he met his future wife,
Bernadette Birkett
, who was to later play the voice of Norm's
never-seen
wife, Vera, on
Cheers
. In 1989, Wendt appeared as the eponymous protagonist in a
BBC
TV dramatization of
Ivan Goncharov
's novel
Oblomov
. He has also appeared twice (two episodes were made from one day's filming) on the original British edition of
Whose Line Is It Anyway?
.
George Wendt first appeared on the NBC sketch show
Saturday Night Live
in a Season 11 (1985–1986) episode where he shared hosting duties with director
Francis Ford Coppola
. (Coppola only appeared on the episode in sketches that pertain to a running gag throughout the episode where Coppola, Lorne Michaels, and then-writer/castmember Terry Sweeney work to "retool" SNL's sketches for better ratings, a reference to SNL's ratings being so low in the 1985-1986 season due to the young, inexperienced cast Lorne hired that Brandon Tartikoff considered cancelling the show.) In the early 1990s, Wendt made
cameo appearances
on several episodes of
SNL
as Bob Swerski, one of the Chicago
Superfans
(along with castmembers
Chris Farley
,
Mike Myers
,
Robert Smigel
, and one-time host,
Joe Mantegna
). Also, Wendt is the uncle of current
SNL
writer and cast member
Jason Sudeikis
.
Wendt has since appeared as himself on
Seinfeld
and has reprised the character Norm Peterson on the
The Simpsons
as well as the
Frasier
episode "Cheerful Goodbyes". In 2003, Wendt appeared as a celebrity fisherman in the music video for
Corba Verde
's "Riot Industry" along with
Rudy Ray Moore
(of "Dolemite" fame) and
The Minutemen
's
Mike Watt
. He appeared in several episodes of
Sabrina, The Teenage Witch
as the title character's boss. He also was the host of the
A&E
reality show
,
House of Dreams
in 2004. In January
2006
, Wendt was seen again on television screens as part of the cast of
Modern Men
.
In May 2006, Wendt was seen yet again on television. He made several appearances on
Late Night with Conan O'Brien
where he performed short skits to the audience's delight. His appearance on
Late Night
was in all likelihood due to the fact that the show was having a week long event in his hometown of Chicago where he is beloved. He starred in a 2006 episode of
Masters of Horror
entitled "
Family
", directed by
John Landis
. Wendt performed alongside
Richard Thomas
in
Twelve Angry Men
in October 2006 in the Eisenhower Theater in
Washington, DC
. After the show opened, Wendt was interviewed by local
movie critic
Arch Campbell
for a piece on the NBC Washington affiliate
WRC
. Wendt was asked, "What should people do when they see you around town?" After hesitating for a moment, Wendt held his thumbs up and replied, "If their impulse is to buy me a beer, then by all means, follow that impulse." In Spring 2007, Wendt performed in Twelve Angry Men in Los Angeles.