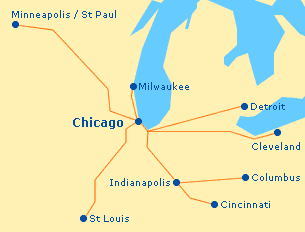 Service overview
Megabus announced, on
6 October
2004, that they have carried more than one million passengers.
On
14 November
2005, the Megabus concept was extended to certain rail services, with the introduction of
Megatrain
between
London
and
Southampton
, and London and
Portsmouth
, using a dedicated carriage on selected
South West Trains
services.
Scope of service
On
22 March
2006
, Megabus started taking bookings for new routes in the United States, with a network of services based in
Chicago
with daily routes to
Milwaukee
,
Indianapolis
,
Cincinnati
,
Cleveland
,
St. Louis
,
Ann Arbor
,
Columbus
,
Pittsburgh
,
Louisville
,
Toledo
,
Detroit
,
Kansas City
and
Minneapolis
.
On
8 August
2007
, Megabus introduces service to
San Francisco
,
San Jose
,
Oakland
,
Las Vegas
,
San Diego
, and the
Phoenix
area (
Tempe
) with a network of services based in
Los Angeles
.
Expansion into US
On
13 September
2005
,
ComfortDelGro
(the owners of Scottish Citylink) and Stagecoach announced that they were entering into a joint venture to provide express coach services within Scotland, effectively ending the competition on Megabus routes within Scotland. Under the terms of the agreement, Stagecoach would acquire 35% of Citylink, in return for certain rights to the Megabus brand in
Scotland
. Megabus operations in the rest of the UK remain unaffected by the deal. Despite being a minority shareholder, Stagecoach has assumed operational control of Scottish Citylink, with Stagecoach staff taking management roles within the company and Stagecoach subsidiaries replacing subcontract operators on many routes. Some Citylink services have also been sacrificed in favour of the Megabus brand where operations overlapped.
After an investigation started in March 2006, the
Competition Commission
has
ruled
that the merger is anti-competitive. Though regulators will begin consultation with the two companies to seek an appropriate remedy, it is likely that this will involve the forced divestment of some services to an independent operator.
Proposed merger
Initially, most of the routes used buses designed for short local public transport journeys that had no
toilet
or luggage space, and each passenger was allowed only one bag. Toilets have been added to the fleet, enabling Megabus to eliminate toilet stops. These double decker buses are 94-seat tri-axle
Leyland Olympian
built for service with
Hong Kong Citybus
in 1990/1991. Stagecoach purchased Citybus in March 1999 but sold the company in 2003 after the group hit financial difficulties, the batch of Olympians used for Megabus remaining in Stagecoach ownership following the divestment. These powerful Cummins-engined Olympians soon became the trademark of the fleet in their dark blue livery with huge Megabus wording and logos adorning almost every available part of the bodyside. Newer 'high-frills' bendy coaches, which do have toilets and reclining seats, were used for the longer journeys between London and Scotland, but these were replaced early in 2005.
In the early days, a number of mid-life
Volvo B10M
coaches temporarily operated various routes, mainly in the South of England, until sufficient Olympians had been prepared for service. Gradually, most of these coaches were taken off Megabus work and used by Stagecoach elsewhere. However, the type made a reappearance at the end of 2005 when they became the mainstays on the services from London to Birmingham and London to Nottingham/Chesterfield.
In summer 2004, Stagecoach received a batch of
Neoplan
Skyliners for use on the
Oxford Tube
service. This displaced a number of 68 seat five-year-old double-deck
Jonckheere
-bodied MAN coaches, some of which went into service with Megabus on cross-border services and on services wholly within Scotland.
Stagecoach ordered another batch of
Neoplan Skyliners
in 2004, which went into service on Megabus in early 2005. These replaced the articulated coaches used on services between London and Scotland, and also Olympians on some of the other longer distance services. This meant that Olympians were mainly confined to the shorter distance routes in southern England.
In October 2006, Stagecoach announced an £11m order for 45
Volvo B12B
T 15-metre coaches with
Plaxton
Panther coachwork for their UK Megabus operation. The three-axle coaches will be the longest rigid vehicles in the UK on their introduction to service in February
2007
, and the first of their kind to be built in Britain. The 63-seat vehicles will be fully accessible, with wheelchair lifts fitted.
Vehicles are owned and maintained by various Stagecoach subsidiaries that lie within the route network. In lieu of properly branded Megabus vehicles being available, it is not unusual for Stagecoach service vehicles to deputise; these ranging from standard double deck types such as the
Volvo Olympian
and
Dennis Trident
, through to Volvo B10M single deckers or even
Dennis Dart SLF
midibuses. Red
Stagecoach London
double deckers from
Leyton
were often seconded to Megabus motorway work until the sale of that company to
Macquarie Bank
.
Accessible Coach Routes:
The US Megabus fleet consists of a number of
MCI
102EL Renaissance and 56-seat 3-axle coaches and 2007 J4500 motorcoaches, They have also just started to take delivery of
Van Hool
72 passenger double decker motorcoach the VanHool TD925. owned and operated by Stagecoach's US division,
Coach USA
.
Service M9 - Aberdeen - Glasgow via Dundee and Perth.
Service M90 - Inverness - Edinburgh via Perth.
Service M7 - Cardiff to London
Service M10 - Bristol to London
Service M6 - Plymouth to London via Exeter
Service M20 - Edinburgh to London via Newcastle, Scotch Corner, Wakefield and Sheffield
UK Routes
Megabus in the US began operations on 10 April 2006 with routes between Chicago and Cincinnati, Cleveland, Columbus, Detroit, Indianapolis, Milwaukee, Minneapolis and St. Louis. Services also began between Indianapolis and Cincinnati. The service that was initially offered between Indianapolis and Columbus was later cancelled due to low ridership.
On 11 September 2006, a stop in Toledo was added on the route operating between Chicago and Cleveland.
Additional services were added on 2 April 2007: a stop in Ann Arbor along the Chicago-Detroit route, new service between Minneapolis and Milwaukee, an extension of the Chicago-Toledo-Cleveland route into Pittsburgh, an extension of the Chicago-St. Louis route into Kansas City, a re-introduction of the Chicago-Indianapolis-Columbus route, new service between Cincinnati and Columbus, and new service between Chicago and Louisville via Indianapolis. Megabus now operates service in California, Nevada, and Arizona.
Megabus USA faces serious competition from locally subsidized
Amtrak
services, regional
Greyhound Lines
services, and services of discount airlines such as
Southwest Airlines
.